Guests: 18 (2 of the guests will be 3 years olds.  She knows that they will paint whatever so hold off creating paint pallets for two.  When Cynthia arrives let her know that she can choose up to 4 colors for the two 3 year olds and then create their pallet)   Fav Color:  Aqua. We have to do something that is obviously masculine, Adrian is the husband.  Perhaps we can mix brown and White with the Aqua to provide a masculine feel and darker shades of the aqua.
March 31, 2018




7:00 pm - 9:00 pm
Address:
162 E Crogan Street
, Suite D,
Lawrenceville
,
Georgia
,
30046
,
United States
Description:

Art Studio — Wood Decor, Wood Pallets, Wine Glasses, Public Classes, Open Studio, Private Parties (Many Types), Fundraisers, Gift Certificates, and more…
Parking available directly in front of the studio.  If all spaces are taken, the deck across the street is free parking.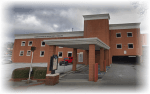 An alternate view of the garage with the studio in view.