Guests:  10 – 15 (update to be provided)
Fav Colors:  Pink and 'AKA' Green (Google the colors for this sorority and use them exactly)
Note: they may add a half hour onto the time and will let us know  Details:  For the painting follow…Paint the eyes lavender, Paint the tail Teal instead of green, Paint the mermaid Caramel brown.  See the email for the Bday girl's picture to see her skin tone.
May 18, 2019




12:30 pm - 2:30 pm
Address:
162 E Crogan Street
, Suite D,
Lawrenceville
,
Georgia
,
30046
,
United States
Description:

Art Studio — Wood Decor, Wood Pallets, Wine Glasses, Public Classes, Open Studio, Private Parties (Many Types), Fundraisers, Gift Certificates, and more…
Parking available directly in front of the studio.  If all spaces are taken, the deck across the street is free parking.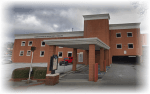 An alternate view of the garage with the studio in view.