Guests: 10 – 18   (This is a 1-HOUR Party) Paint the background pink and the dog using peanut butter mixed with white to lighten it two shades.  A count will be provided for the number of girls and boys. The boys will paint the background green and will not have a bow.
May 19, 2018




4:00 pm - 5:00 pm
Address:
162 E Crogan Street
, Suite D,
Lawrenceville
,
Georgia
,
30046
,
United States
Description:

Art Studio — Wood Decor, Wood Pallets, Wine Glasses, Public Classes, Open Studio, Private Parties (Many Types), Fundraisers, Gift Certificates, and more…
Parking available directly in front of the studio.  If all spaces are taken, the deck across the street is free parking.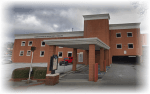 An alternate view of the garage with the studio in view.