Guests:  10  (update to be provided) This is a 1.5 hour field trip.  See all details in the party email confirmation.  PAINTING TO BE COMPLETED ON THE 11X14 (SMALL)…and class will paint on the small as well being that it is a very quick party.
February 13, 2019




4:30 pm - 6:00 pm
Address:
162 E Crogan Street
, Suite D,
Lawrenceville
,
Georgia
,
30046
,
United States
Description:

Art Studio — Wood Decor, Wood Pallets, Wine Glasses, Public Classes, Open Studio, Private Parties (Many Types), Fundraisers, Gift Certificates, and more…
Parking available directly in front of the studio.  If all spaces are taken, the deck across the street is free parking.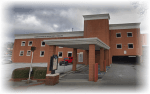 An alternate view of the garage with the studio in view.