Guests: 10    Fav Colors: Silver, Gold, Purple, she likes bling    Robin's 50th B-Day  it is a surprise party.
NOTE:  Use the following colors for the prepaint and party….Purple, Peanut Butter (the light brown), Yellow, White, Black  Because purple and yellow make black, when you do the yellow part of the center, let it dry as much as possible. then when you stipple on the on the purple,  dry you big round brush and cause it to be 'bristly'  they will lightly dag the brush in the paint and lightly dab/stipple onto the yellow.  It still may turn darker, but if it is done lightly, it may turn out…ok I just saw this is your party Jenny. 🙂  So those are the colors…I know
February 4, 2020




6:30 pm - 8:30 pm
Address:
162 E Crogan Street
, Suite D,
Lawrenceville
,
Georgia
,
30046
,
United States
Description:

Art Studio — Wood Decor, Wood Pallets, Wine Glasses, Public Classes, Open Studio, Private Parties (Many Types), Fundraisers, Gift Certificates, and more…
Parking available directly in front of the studio.  If all spaces are taken, the deck across the street is free parking.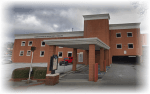 An alternate view of the garage with the studio in view.