Guests: 10 ( custs provides final count 4 days prior to event)
Fav Colors:  pink, purple, white
Notes:
Rakeb is pronounced RAE-KEHB
Mom's name Frehiwot is pronounced FRAY-HE-WOE  she said call her 'Fray' for short.
Address:
162 E Crogan Street
, Suite D,
Lawrenceville
,
Georgia
,
30046
,
United States
Description:

Art Studio — Wood Decor, Wood Pallets, Wine Glasses, Public Classes, Open Studio, Private Parties (Many Types), Fundraisers, Gift Certificates, and more…
Parking available directly in front of the studio.  If all spaces are taken, the deck across the street is free parking.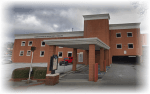 An alternate view of the garage with the studio in view.